I can't believe the weather this weekend!  In the seventies!! Now that's what I'm talking about.  I was kind of bummed.  I usually run my errands on Friday, but wasn't feeling good so ended up running them on Saturday when I could have been enjoying the beautiful weather.
The warmer weather could not have happened on a better weekend.  Our unit went out on Saturday.  For my hubby that's bad news…for me good news.  I am always freezing.  He likes to keep it cold.  I like it warmer so this was all fine and dandy with me 😉  I did feel bad for him…I'm not heartless!  Anyway…Sunday I really wanted to take advantage of this warmer weather…sooooooooo here are just a couple of things I did…First enjoy this face only a mother could love 😉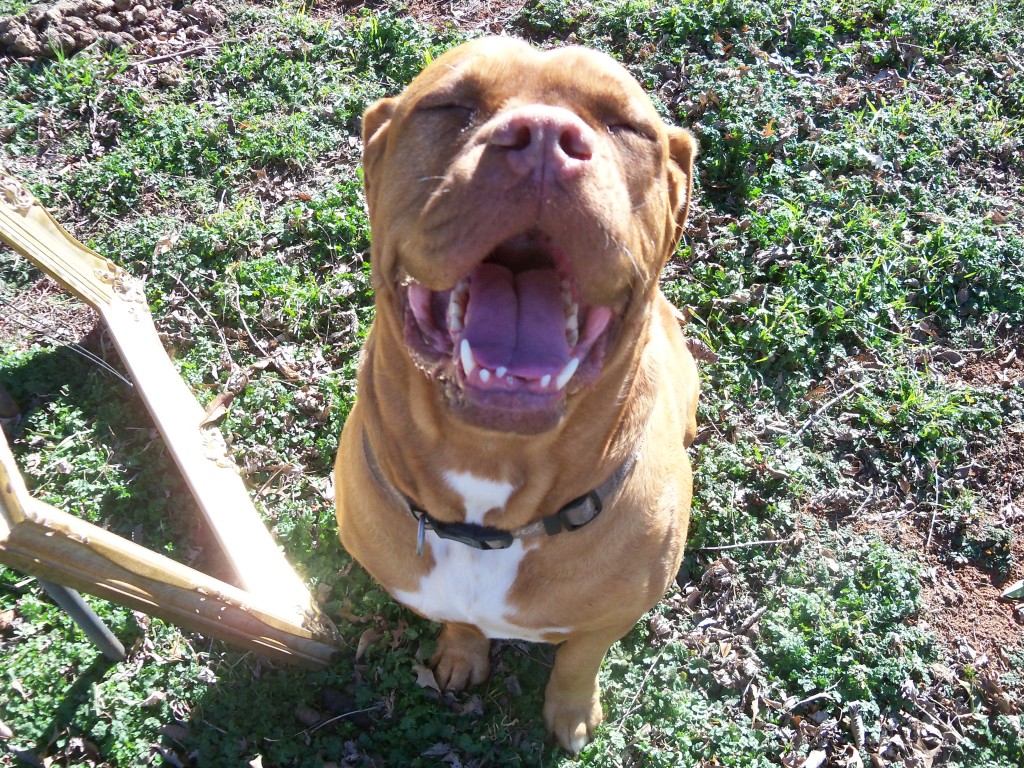 Our Lucy…she is a six-year-old French Mastiff. She was out enjoying the weather with me! Isn't she B-E-A-utiful!
Okay…well the first thing I did was painted this old horseshoe…no big deal.  Something I have been thinking about doing. I thought maybe it would look good over one of my doors in my home, but now I'm wondering if it would look better in this empty frame I have hanging on my wall.  I'll give it some thought for a bit.  I find these all over our property.  We do have a few miniature horses and one big horse.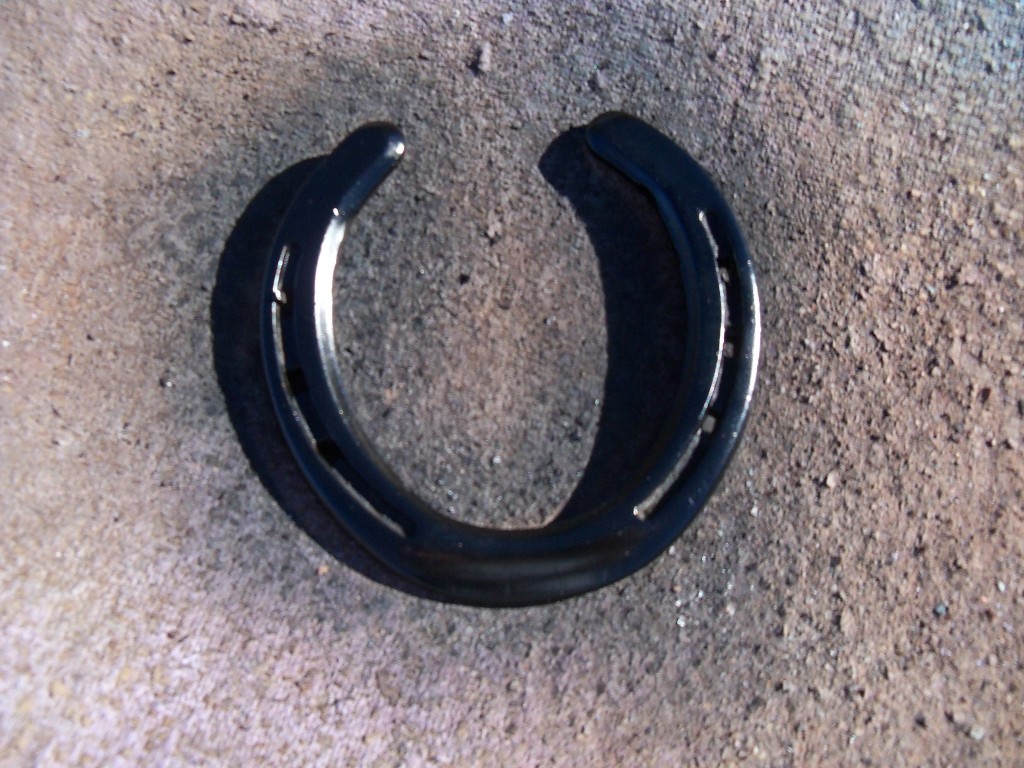 Then I started on this awesome gold frame I found on Halloween night while my sister and I were taking the girls trick-or-treating. I guess the next day was big trash day.  Can you believe some of the things people throw out!!  It was just sitting on top of the pile in all it's golden glory!  YES…I was the mom carrying around a big gold frame that I got out of a pile of trash while trick-or-treating through my sister's neighborhood. I couldn't pass it up…all the things I could do with this frame.  That is why it has taken so long for me to do anything with it.  I had to decide which way to go…chalkboard?  Hang it up with a wreath hanging from it (I did do this for Christmas and got a ton of compliments on it from my daughter's friends, my HUSBAND, and a few others)?  Paint it or leave it gold? I finally decided to do the whole chicken wire thing so I can display some black and white family photos (I LOVE PICTURES).  OH I better show this glorious thing!!  My free find…."one man's trash is another man's treasure"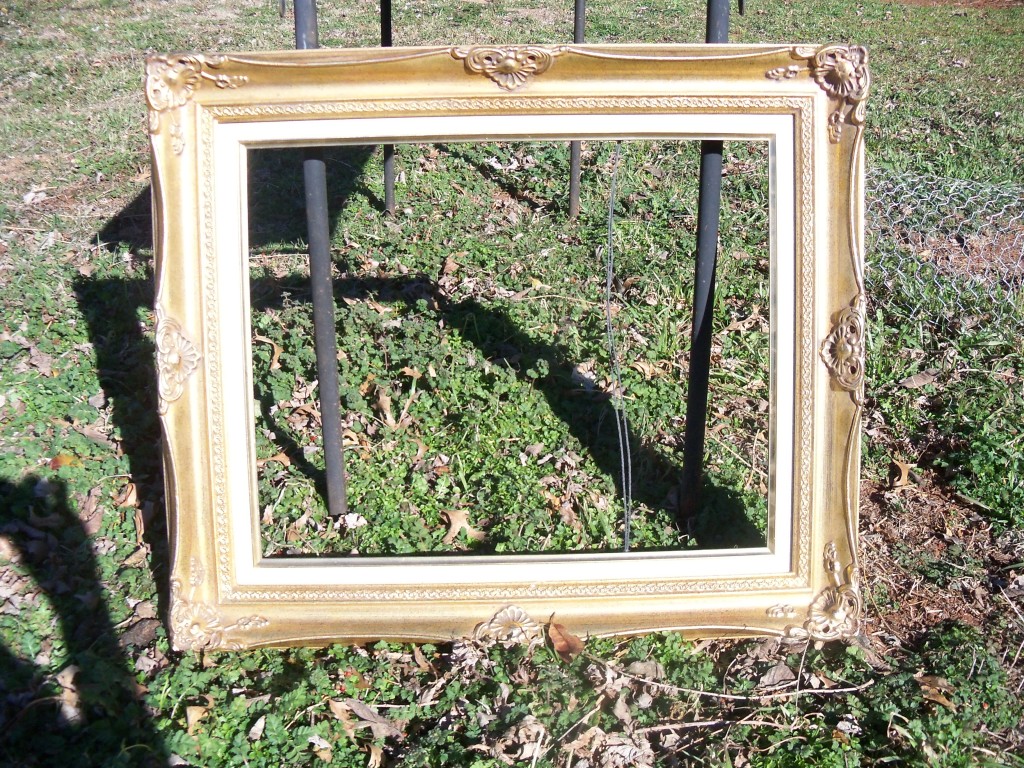 Here it is!!  What do you think?  I love it!
Soooooo…after serious thought and my husband saying paint it because it's pretty ugly 🙁  (he loves to mess with me) I decided to paint it!  I did the whole Vaseline thing.  I love it…you rub Vaseline on certain areas so when you are done painting you rub it off and the color underneath shows through and makes it look vintage or old (chippy).  I tried painting with a brush once while trying this trick and it turned out really messy so this time I spray painted it white.  Then I took a paper towel and wiped it down real good and voila…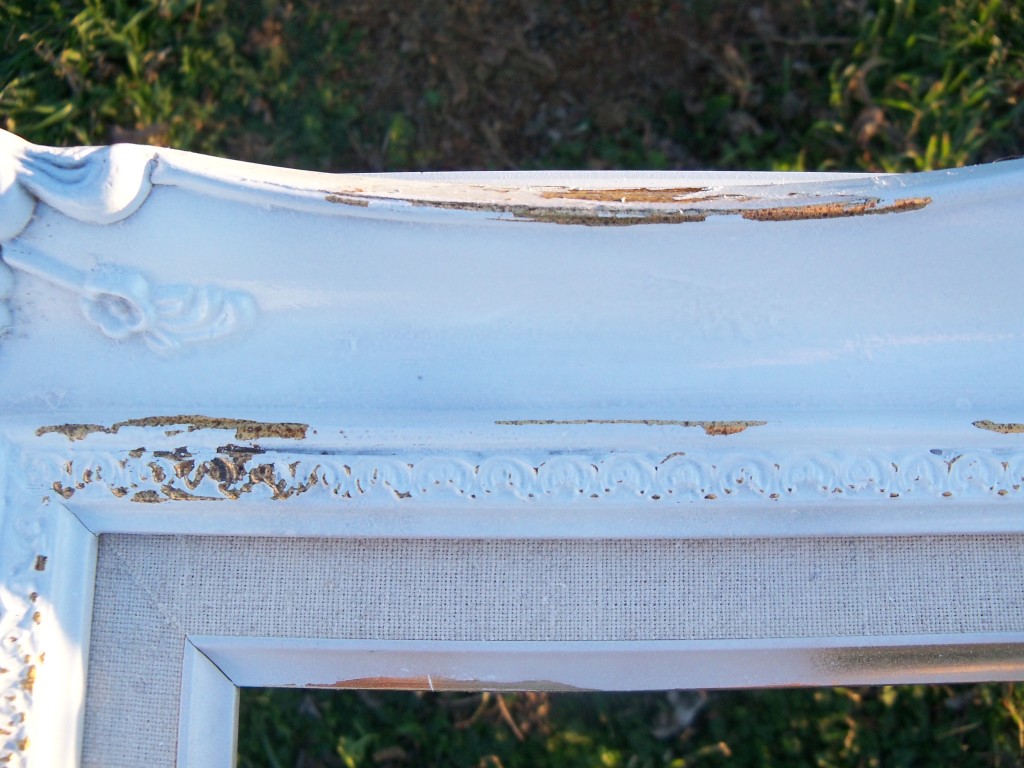 Then I measured out some chicken wire that I found out behind the barn, grabbed my staple gun and wire cutters.  Cut it to size and stapled it to the back of the frame.  I made sure it went under the hanging wire.  I'm so glad I did it!  It turned out so good.  Now I just need to find the pictures I want to display on it with clothes pins or something like that.
Here is the completed project minus pictures.  Maybe soon I will show you what it looks like on my wall with pictures and all.  I'm not sure if I want it in my living room or kitchen yet.